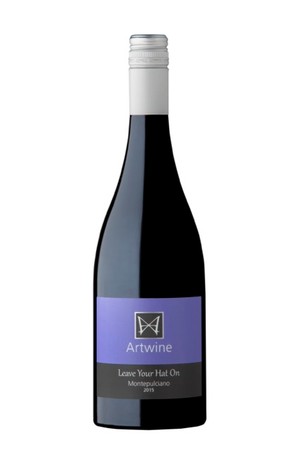 Leave Your Hat on Montepulciano 2015
Affectionately called Monty and with its origins from Italy, "Leave Your Hat On" is really the Full Monty derived from the classic movie and the Joe Cocker hit.
Aromatic, medium bodied and a textural palate. Vibrantly bursting with flavour. Dark cherries, plums and berries with spicy undertones and splashes of herbs. Good length and savoury tannins. Estate grown, single vineyard.
Trophy Best Red Alternative Winestate Wine of the Year and Best Red Wine Trophy, Clare Valley Wine Show.
Wine Profile
Tasting Notes
Aromatic and medium bodied with a textural palate vibrantly bursting with flavour. Dark cherries, plums and berries with spicy undertones and splashes of herbs. Good length and savoury tannins.
Awards
TROPHY Best Dry Red, Clare Valley Wine Show 2016. TROPHY BEST RED Wine of Show - Clare Valley Wine Show 2016. TROPHY Winestate Magazine Wine of the Year 2016
Vineyard Notes
Vineyard is approximately 470 Metres above Sea Level. Vine rows run East – West. Latitude: 33.87 degrees South; Longitude: 138.64 degrees East (approx.). Soil – Red loam over a mixture of limestone, shale and clay Vines planted in 2012. 2015 was first vintage. FSAC Montepulciano Clone on 1103 Paulsen rootstock Vine spacing 3.0 metres x 1.8 metres.
Production Notes
Grapes are harvested at approximately 14.0 Baume when flavours display dark cherry, red berry and spice and are de-stemmed to an open top fermenter. The must is inoculated and allowed to ferment between 25-30oC until dry. The cap is pumped over and splashed twice daily allowing plenty of air into the ferment for a minimum of 7 days. Once primary ferment is completed the must is bag pressed and racked to older French oak until completion of malo. Upon completion wine is racked, acid adjusted and put back to barrel. The wine is bottled within 12 to 18 months to ensure the style retains vibrant and retains primary fruit freshness.
Food Pairing Notes
Montepulciano is a great match to pasta and rice dishes, it loves lamb and white meats and even oily fish.
Product Reviews
TerryNix
(03/10/2017 at 7:25 PM)
Doctor Who is now considered a British Institute and has come a long way since it first aired on November 23rd 1963. The very first show saw the Doctor travel 100,00 years into the past to help some dim cavemen discover light. After 26 seasons and seven Doctors later the series came off our screens in 1989 much to the disappointment of the huge devoted fanbase. In 1996 an attempt was made to revive Doctor Who but it wasnt until June 2005 when it came back with a vengeance with Christopher Eccleston as the ninth Doctor that put the series back on the map as it were. It then went on for 5 years with David Tenant portraying the Doctor until 2010 when Matt Smith took over the role. Today it is still a great family show and has attracted many new fans. If youre a new or old fan of the show there are Tours and museums you can go and see some of the locations and memorabilia of this classic show. The Doctor Who Tour of London will take you on over 15 locations from the show, some from the new series and some from old sites like the location of The Invasion and Resurrection of the Darleks. The tour also takes you to the TV museum in London where you will get to see some of the cosumes worn in the show and props used. Also you can buy gifts and memorabilia from the shop. You will learn all about how the shows were made so the tour is also educational. If you want to take pictures of the locations thats not a problem. Remember the front door of 10 Downing Street in Aliens of London? Well you can get up and close to this and get your picture taken in front of the door. Rose Tyler fans will love the tour as you get to drop by her home in the show. Why not go that extra mile and actually meet a Doctor Who star. Well this is possible with private or group tours. You will get the general tour but included will be a pre-arranged meeting or lunch with a celebrity from the show. This will obviously depend on availability of the celebrity and the cost will reflect the popularity of that celebrity. There are tours in London and also Wales. The Wales tours take you to Cardiff where you will see lots of location which were featured in shows since 2005. You can leave from London or at Leigh Delamere services station on the M4. There is a Doctor Who exhibition in Cardiff which you get to see. At the end of the Doctor Who tour you get a souvenir group picture sent you by email which is a nice touch. For seriously devoted Doctor Who fans there is a 3 day tour which takes you to all the locations in both London and Cardiff. You will see locations from the past 45 years as well as recent sites from the lasted Doctor Who series. Day one is based in London where you get to see 15 sites. Day two takes you to Cardiff where you get to mean the real life owner of the to see we have an Gothic property used as the location of the school in Human Nature. The final day is partly spent in Cardiff with a walking tour at Cardiff Bay, then you head back to London but a stop at Stonehenge to see the site of the Pandoica. Then its dinner at The Cloven Hoof pub in Devils End b efore you taken back to central London.  
JessieTew
(07/12/2017 at 8:02 AM)
A Biological Masterpiece, But Subject to Many Ills The human foot is a biological masterpiece. Its strong, flexible, and functional design enables it to do its job well and without complaint—if you take care of it and don't take it for granted. healthThe foot can be compared to a finely tuned race car, or a space shuttle, vehicles whose function dictates their design and structure. And like them, the human foot is complex, containing within its relatively small size 26 bones (the two feet contain a quarter of all the bones in the body), 33 joints, and a network of more than 100 tendons, muscles, and ligaments, to say nothing of blood vessels and nerves. https://www.cialissansordonnancefr24.com/cialis-a-commander/
Joslynmog
(05/01/2018 at 11:09 AM)
loans online bad credit payday loans direct lenders payday loans online no credit check payday loans online payday loans online no credit check loans online no credit check online loans for bad credit
Lashonda
(16/01/2018 at 11:52 AM)
online casino real money pogo casino slots casino games free vegas casino games
Demi
(07/02/2018 at 7:28 PM)
weight loss pills top weight loss supplements best weight loss pills phentermine 37.5 without doctor's prescription prescription weight loss pills
MichaelP
(09/03/2018 at 1:40 AM)
This product is high quality but here you can find it for lower price: amzn.to/2oRtYcE