Awards & Reviews
We have achieved in just a few short years an amazing 32 Trophies
Most recent are below for the commencement of the 2022 Wine Show events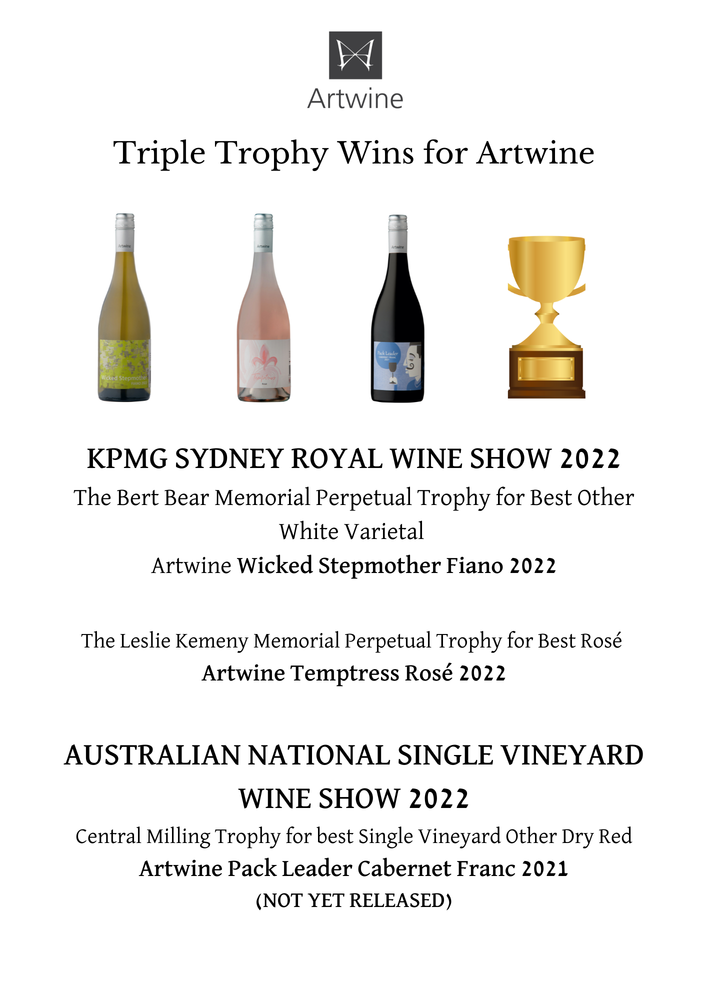 The 2021 wine show season has ended and we are thrilled to say we have received a trophy for our Grumpy Old Man Grenache from the Australian Single Vineyard Wine Show, a trophy from the Chair of Judges Nick Ryan at the Clare Valley Wine Show for our Pack Leader, Cabernet Franc,and a trophy from the Australia & NZ Boutique Wine Awards for best other red wine, Hola Tempranillo plus 4.5 Stars (96 Pts) from Winestate along with 5 Stars (98 Pts) for our Cabernet Franc, and 4.5 Stars (96 Pts) for Montepulciano. A total of 3 x trophies, 6 Golds, 26 Silvers and 48 Bronze for the year!
In 2020 many shows were cancelled due to Covid, however we had a few Gold Medals which was great as we only had a few wines to enter losing our 2020 Hills vintage to the bush fires.
In 2019 we were awarded 2 trophies for our Wicked Stepmother Fiano at Sydney Royal WineShow and The Rutherglen wine show and in addition 3 trophies at the Clare Valley Wine Show for our 2011 aged riesling including Best Riesling of show, a massive honour from the heartland of Riesling.
And to complete the year we had 2 wines in the Winestate Wine of the Year Taste-Off (Top 5) finals for 2019 - Gruner Veltliner & Cabernet Sauvignon and are thrilled to have been awarded the Trophy for the second consecutive year, back to back wins, of the Winestate BEST ALTERNATIVE WHITE WINE of the Year for Australia & New Zealand for the Gruner Veltliner, last year we were awarded for our Fiano.
In 2018 we were awarded the following , 3 trophies at the Australian Alternative Varieties Wine Show including the ultimate WINE of SHOW for our Gruner Veltliner and The Winestate Magazine - Best White Alternative Variety of the Year for our Wicked Stepmother Fiano, Best Cabernet Sauvignon, Clare Valley Wine Show for our "The Good Life" Cabernet Sauvignon and a Trophy for the best Merlot from the Australia and New Zealand Boutique Wine Awards.
Albariño - Artwine has launched the first "Real" Albariño from the Adelaide Hills Wine Region - this delicious wine has also received a Gold Medal from the Adelaide HIlls Wine Show and remains the only Albariño in the Hills.
Review by Dan Traucki - Wine Writer - June 2019
The Real Thing, Albariño - My first 2019 white wine and what a cracker it is. Aromas of limes and peaches, quite steely, on the palate ,masses of flavour, some minerality and a smidge of steeliness, very appealing crisp finish. BLOODY GORGEOUS!
Review by Huon Hooke as featured in The Sydney Morning Herald & The Melbourne Age
A new wine for this maker, it has a very fresh, young aroma, floral with a subtle spicy note. Quite intense and will stand up to flavoursome food. Drink Now and up to six years.
Review from Campbell Mattinson, The Wine Front
We all know the story of albarino/savagnin in Australia. This is actually albarino, hence The Real Thing name. It's not the first "real" Australian albarino to market but it is the first from the Adelaide Hills. It's from the 2018 vintage, the first wine reviewed from the 2018 vintage to these pages … and so it begins.
It's dry, slatey, spicy, slightly peppery, and ripped with nashi pear and apple flavours. A textural element it hinted at without quite going there; the effect feels sophisticated. It doesn't have an enormous amount of length but it's not short; it's satisfying. It's also interesting, or characterful, in an unforced way. It's a welcome addition to the Australian and Adelaide Hills wine landscape.
Review from Winsor Dobbin - Wine Writer
One of the first 2018 vintage wines to his the market is this debut albarino from Artwine in the Adelaide Hills, grown on the Woodside vineyard. Like many in Australia, owners Judy and Glen Kelly initially planned to plant albarino in 2009. It was then discovered the "albarino" rootlings in Australia were actually savagnin. This really is albarino - and it is a lovely young wine, deliciously vibrant. It is made in a fresh, drink-young style, like a lot of alvarinho in Portugal, with vibrant grapefruit and apricot flavours to the fore, along with some flinty minerality. Well worth checking out for $30
Review below by Dan Traucki - Wine Writer
"Wow! Here we are just in the middle of May and I have already received the first vintage 2018 white wine to review".
As it happens, the ARTWINE ADELAIDE HILLS 2018 "THE REAL THING" ALBARINO is an absolute cracking wine! Naming the wine "THE REAL THING" is brilliantly appropriate after the 2008-2009 scandal when it was discovered that most of the Albariño planted in Australia was in fact, Savagnin. Savagnin is a great variety – I love it! But, it ain't Albariño – which is what the growers thought they had bought and planted. So they had to start again. This wine could have equally been called "The Real Deal" as it is a great young Albariño which would fit in nicely in a line-up of young Spanish Albariño.
It is redolent with enticing aromas of citrus and a smidge of steeliness. Is zippy, crisp, bright with delightful citrus flavours and a palate cleansing, lingering finish. A CLASS ACT!
If the rest of the 2018 whites are as good as this one we are in for some bloody brilliant wines my friends!!!
Winestate Magazine - Wine of the Year Finals 2018
We have 4 wines with 4.5 Stars that will be in the final tastings for the Wine of the Year late in 2018. Wicked Stepmother Fiano 2017, Temptress Rosé 2017, Grumpy Old Man Grenache & Leave Your Hat on Montepulciano 2016.
And ... with 4 wines with 4 Stars and a Recommended we are off to a good start and the year hasn't begun yet! Four Star wines, Prosecco 2017, Hola Tempranillo Blend 2016, Montepulciano 2015 Graciano 2016.
Adelaide HIlls Chanticleer Cup Trophy 2017
We have just been honoured with the Chanticleer Trophy Award at the 2017 Adelaide Hills Wine Show. The award is given for the best Regional Ambassador and The Most Welcoming Cellar Door. This award is truly thrilling and special to our business as it recognised us for what we strive for every day and the experience we give to our guests.
Wine Shows 2017
Madame V Viognier has taken out TOP GOLD at the Rutherglen Wine Show in the Viognier class.
We have won a further Trophy for our Wicked Stepmother Fiano 2016 from the Winewise Championship.
The Alternative Varieties Wine Show awarded us 2 x GOLDS - Fiano 2017 (Its second GOLD) and Gruner Veltliner 2017 along with 2 x Silver Medals and 3 x Bronze.
The 2011 Riesling is featured as one of this years top finalists in the Riesling category with Winestate Magazine and is displayed in the current December issue of the magazine.
Drinks Trade Magazine Issue 59 - 2017
This issue reviewed a range of Alternative Red Wines and printed the reviews of the Top 20 in the magazine July/August issue. Artwine The Grace, Graciano and Artwine Leave Your Hat on Montepulciano were both reviewed.
The Grace Graciano 2015
Deep Ruby colour. Aromas of vanilla oak, spice ripe plums and red cherries. Fresh acidity on te palate with moderate tannin and generous fruit flavour of plum and cherry. Long finish.
Leave Your Hat on Montepulciano 2015
Dense, pure long juicy fruit. Broad plush flavours of dark cherries, plums and spice. Quite a mouthful!
Wine Shows 2016
2016 was truly a great success for us with a total of 8 Trophies won. We won our first Trophy of the year for our Coco Sparkling at the Australia & New Zealand Boutique Wine Awards, this was followed by a staggering 6 Trophies at the Clare Valley Wine Show winning, "Best Dry White" other than Riesling" for our Fiano, "Best Rosé of show", for our Temptress Rosé. "Best Dry Red Wine" and then the overall "Best Red Wine of the Show" with our first vintage Montepulciano. We were further awarded as "Best exhibitor of Show" and "Best Small Producer".
The year culminated with an Australia & New Zealand Winestate Wine of the Year Award for the "Best Alternative Red Wine of the year" for our Montepulciano.